in order for me to go to myanmar, i need a burmese referee or guarantor.

(hello, lin)

--

lin's family is amazing.

we initially planned to take 12 hr bus rides to get us to each of our 4 destinations.

but her bro n cousin have generously planned to take time off to drive us ard. (-smiles. that means we now have the added luxury of bringing all our cam n video gear.)

her dad has started saving his petrol vouchers too.

in return, jl suggested we throw them a sushi party.

-looks at my stumpy paws.

--

however, mark warned that her family will get a shock seeing me.

either my hair grows longer, or i wear skirts, or i become more feminine in my mannerisms.

bah! who am i kidding?

--

while applying for my tourist visa, i was stumped by this particular qn.



8a) colour of hair --



there i was at the counter, trying to imagine what colour my hair'll b a mth later.

black?
brown?
blonde?
beige?
burnt?

i gave up, i aint no psychic.

--


jl: u stand to benefit alot by going to myanmar with us.
flo: in what ways?
jl: can share toiletries
lin: accomodation
jl: fd
lin: transport
flo: (grin) n girlfriend
jl: u want me or lin?
flo: both.

--

25th's their anniversary.

so we'll b flying out on their day n coming back on mine
the 7th.


what i did for xmas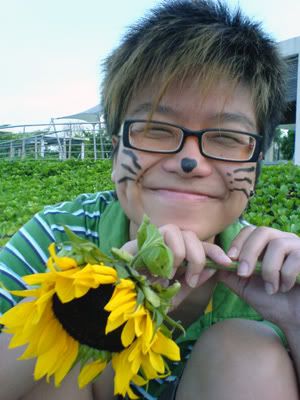 'ima cat'



--

traded in my faulty 7610.
the shopkeeper scrutinised it carefully.
while my friends kept their fingers crossed.
it decided to behave, thankfully.
n i got $320 for it.
(im such a cheat. but ive dishonest friends too.)

hello, k750i.

--

n jl is a bloody delirious monopoly player.

--

sofas can only comfortably fit one non-coughing sleeping partner.


'i hate u'
'i hate u so much'

--

i had never liked xmas anyway.

it's quite possibly the worst time of the yr.

bah.


----joraffe----